US 50 State Quarters ProgramŽ (1999-2008) + 6 territorial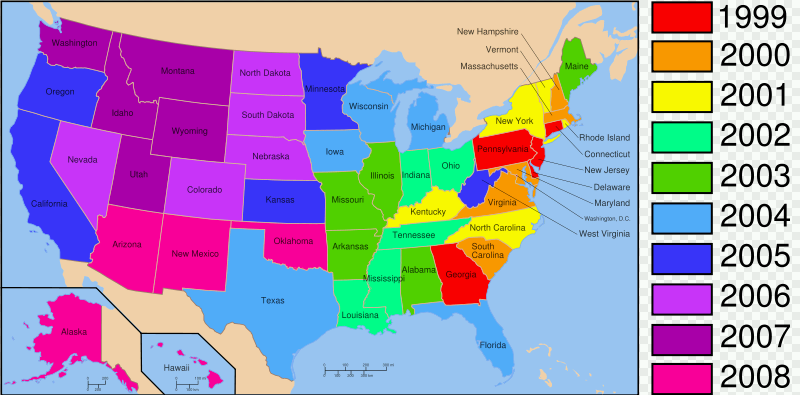 (Image taken from wikipedia: http://en.wikipedia.org/wiki/Image:State_Quarters_Year_Map.svg )
Started in 1999, the US 50 State Quarters ProgramŽ commemorates its 50 states over 10 years, releasing 5 different designs each year. 2008 will be the last year that the US mint will strike the last state quarters and 2009 for territorial quarters. Although these coins are struck in terms of hundreds of millions by Denver and Philadelphia, finding them may be another challenge.
More details are available on the US mint site. Mintage figures are from here: http://www.usmint.gov/about_the_mint/coin_production/?action=production_figures
Special thanks to Art and slowly but surely on coinpeople.com!
1999
State
Denver
Philadelphia
Delaware

D: 401,420,000

P: 373,400,000

Pennsylvania

D: 378,332,00

P: 349,000,000

New Jersey

D: 299,028,000

P: 363,200,000

Georgia

D: 488,744,400

P: 451,188,000

Connecticut

D: 657,880,000

P: 688,744,000
2000
State
Denver
Philadelphia
Massachusetts

D: 535,184,000

D: 628,600,000

Maryland

D: 556,532,000

P: 678,200,000

South Carolina

D: 566,208,000

P: 742,576,000

New Hampshire

D: 495,976,000

P: 673,040,000

Virginia

D: 651,616,000

P: 943,000,000
2001
State
Denver
Philadelphia
New York

D: 619,640,000

P: 655,400,000

North Carolina

D: 427,876,000

P: 627,600,000

Rhode Island

D: 447,100,000

P: 423,000,000

Vermont

D: 459,404,000

P: 423,500,000

Kentucky

D: 370,564,000

P: 353,000,000
2002
State
Denver
Philadelphia
Tennessee

D: 286,486,000

P: 361,000,000

Ohio

D: 414,832,000

P: 217,200,000

Louisiana

D: 402,204,000

P: 362,000,000

Indiana

D: 327,200,000

P: 362,000,000

Mississippi

D: 289,600,000

P: 290,000,000
2003
State
Denver
Philadelphia
Illinois

D: 237,400,000

P: 225,800,000

Alabama

D: 232,400,000

P: 225,000,000

Maine

D: 231,400,000

P: 217,400,000

Missouri

D: 228,200,000

P: 225,000,000

Arkansas

D: 229,800,000

P: 228,000,000
2004
State
Denver
Philadelphia
Michigan

D: 225,800,000

P: 233,800,000

Florida

D: 241,600,000

P: 240,200,000

Texas

D: 263,000,000

P: 278,800,000

Iowa

D: 251,400,000

P: 213,800,000

Wisconsin

D: 226,800,000

P: 226,400,000
2005
State
Denver
Philadelphia
California

D: 263,200,000

P: 257,200,000

Minnesota

D: 248,400,000

P: 239,600,000

Oregon

D: 404,000,000

P: 316,200,000

Kansas

D: 300,000,000

P: 263,400,000

West Virginia

D: 356,200,000

P: 365,400,000
2006
State
Denver
Philadelphia
Nevada

D: 312,800,000

P: 277,000,000

Nebraska

D: 276,400,000

P: 318,000,000

Colorado

D: 294,000,000

P: 274,800,000

North Dakota

D: 359,000,000

P: 305,800,000

South Dakota

D: 265,800,000

P: 245,000,000
2007
State
Denver
Philadelphia
Montana

D: 256,240,000

P: 257,000,000

Washington

D: 280,000,000

P: 265,200,000

Idaho

D: 286,800,000

P: 294,600,000

Wyoming

D: 320,800,000

P: 243,600,000

Utah

D: 253,200,000

P: 255,000,000
2008
State
Denver
Philadelphia
Oklahoma

D: 194,600,000

P: 222,000,000

New Mexico
Arizona
Alaska
Hawaii
27/02/2009