Densha Otoko - Niwatorigame (電車男 - 鶏ゲイム)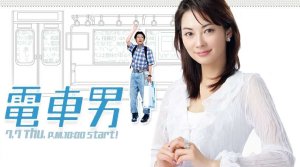 Niwatorigame is a creation from the series Densha Otoko, which proved to be a rather unusual yet highly popular series, originally rumored to be from the creation of a supposedly true love story based on text from the Japanese channel 2channel.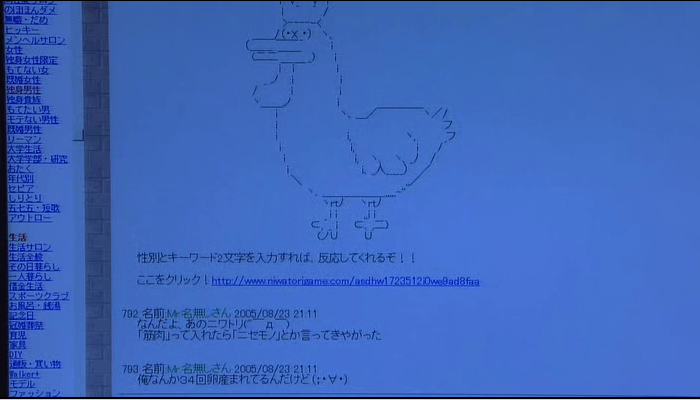 Niwatorigame is a fictional game which NEVER existed in the very first place. Originally featured in episode 8 of Densha Otoko, the domain never existed in the first place and was just a pure creation, aired around the 26th of May, 2005. I, gxseries am the one who bought the domain on the very day when the drama was aired. Yes, this very link: http://www.niwatorigame.com/asdhw1723512i0we9ad8faa (not working at the moment, as well as the site)
The concept of Niwatorigame is rather easy. Enter in your sex (Male or Female or shemale???) as well as two keywords and interesting remarks will be made by the chicken. It is rumored that this is a spinoff from the site: http://www.subservientchicken.com/ apparently backed by Burger King, which you should do a read here. Unfortunately, a rumor is just a rumor.
The language of this game if it ever gets developed will perhaps be very limited to just Japanese, Korean and Chinese. The very reason is because being restricted to 2 "words" or characters, which will almost be impossible to be done in other languages. How should it be done if it is to be done in English? Two words? Two syballus? Possible but that will be very difficult.
The future of this site is unknown. Unless there are people with good Macromedia Flash skills who are willing to help as well as Japanese linguistic people (my Japanese isn't good enough to compile a mad possible combination), this site will not happen! Alternatively you may purchase the domain from me if you like. Do send me a reasonable offer or I will not reply. :-) You can write to me in English, Mandarin, Japanese or even Russian although chances are I will just reply me back in English (I'm just not used to typing in other languages fast enough)
Comments, enquires, etc - send me a message:

13/05/07